Free Shipping anywhere in USA

30-Day Money-Back Guarantee
keeping your home secure
24/7 Recording to capture moments in Full HD.

Smart human detection
Advanced STARLIGHT night vision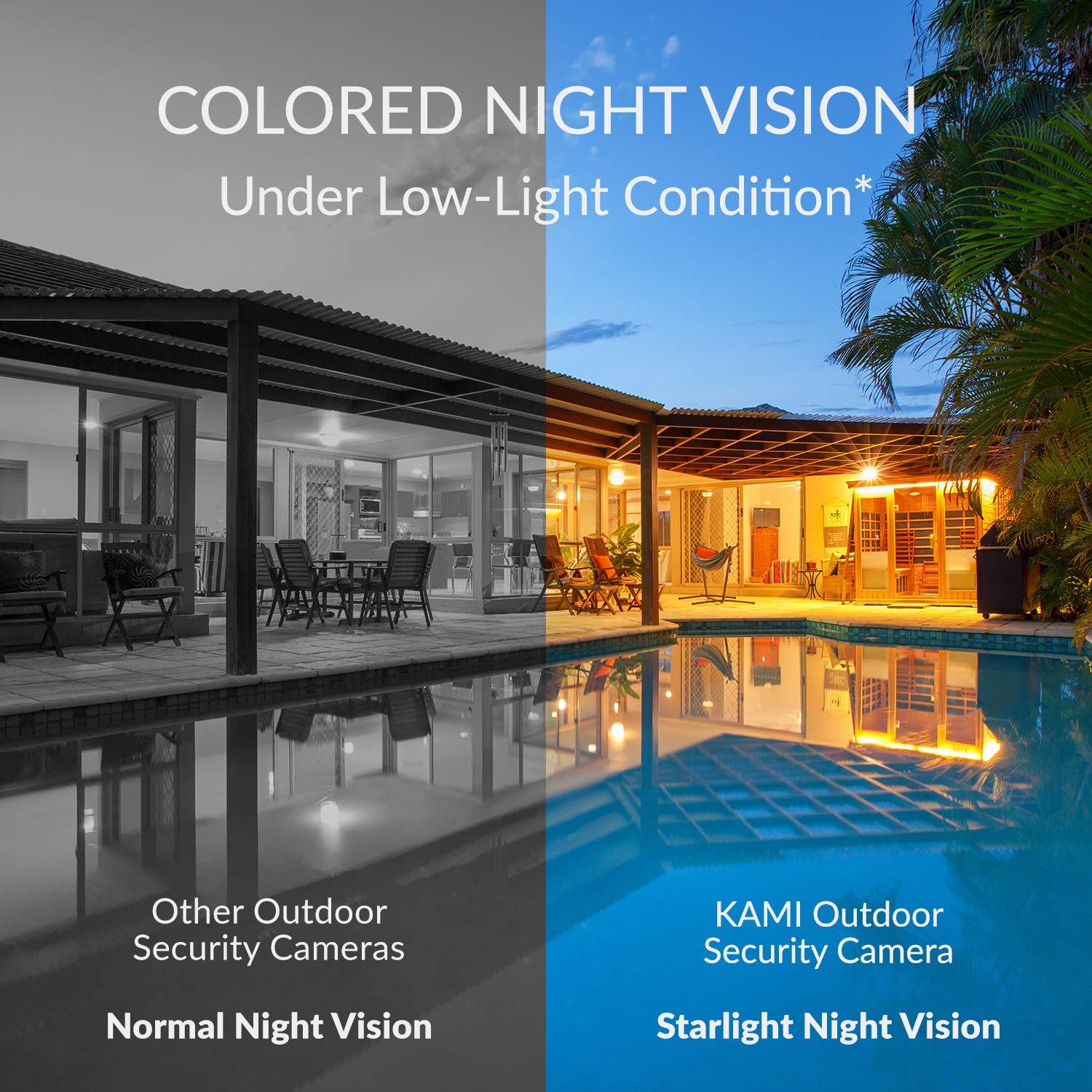 ADVANCED COLOR NIGHT VISION
Advanced Starlight Night Vision technology enables you to see clearly in low light conditions and even in the dark. Never miss any important movement with its clear, colorful 1080P video imaging.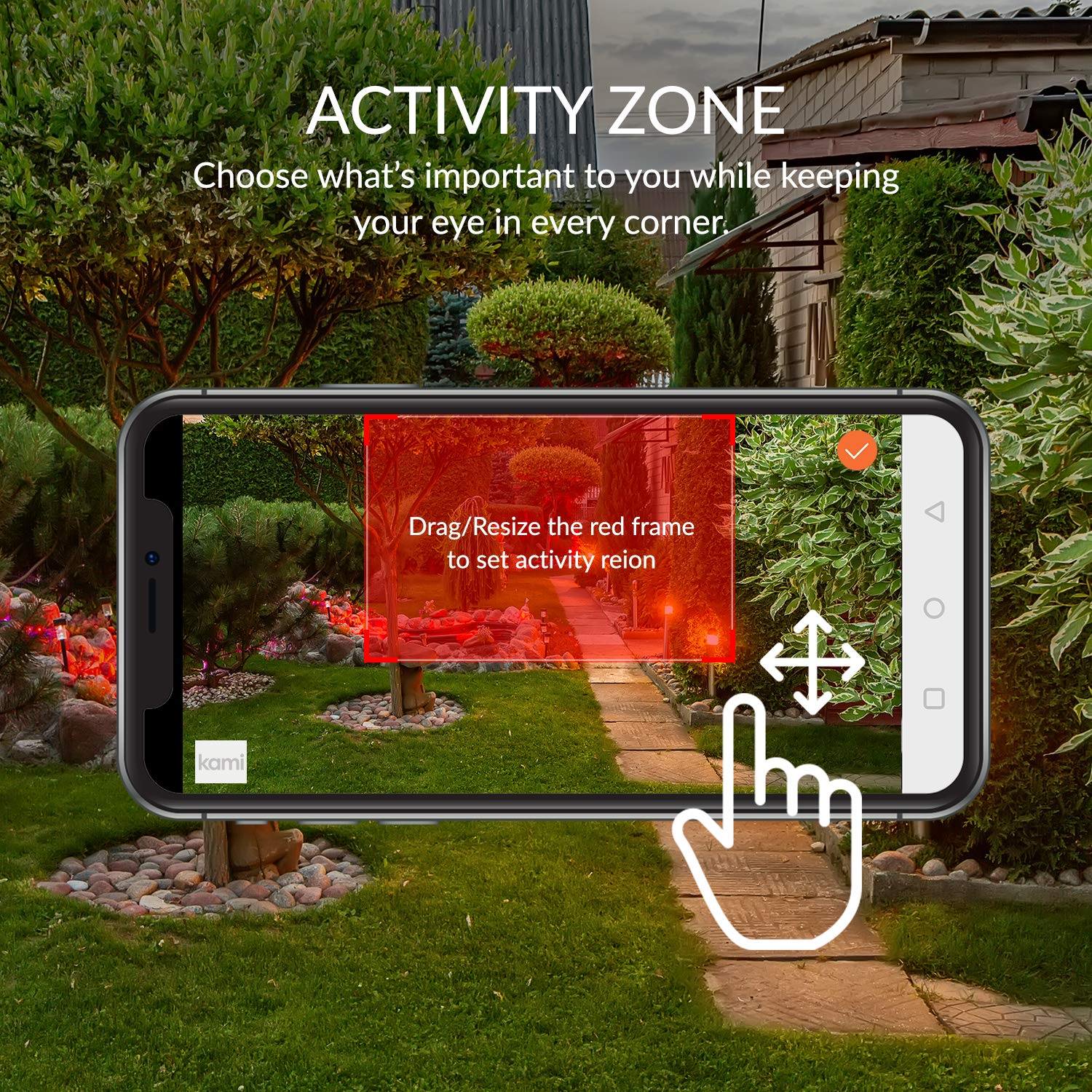 SMART ACTIVITY ZONE
Highlight areas in your camera's view where you want to receive or ignore motion and sound alerts. You can trigger the alerts by selecting the specific area you wish to cover directly from your Kami Home App or YI Home App. Now you can monitor your property and only receive alerts that are meaningful to you.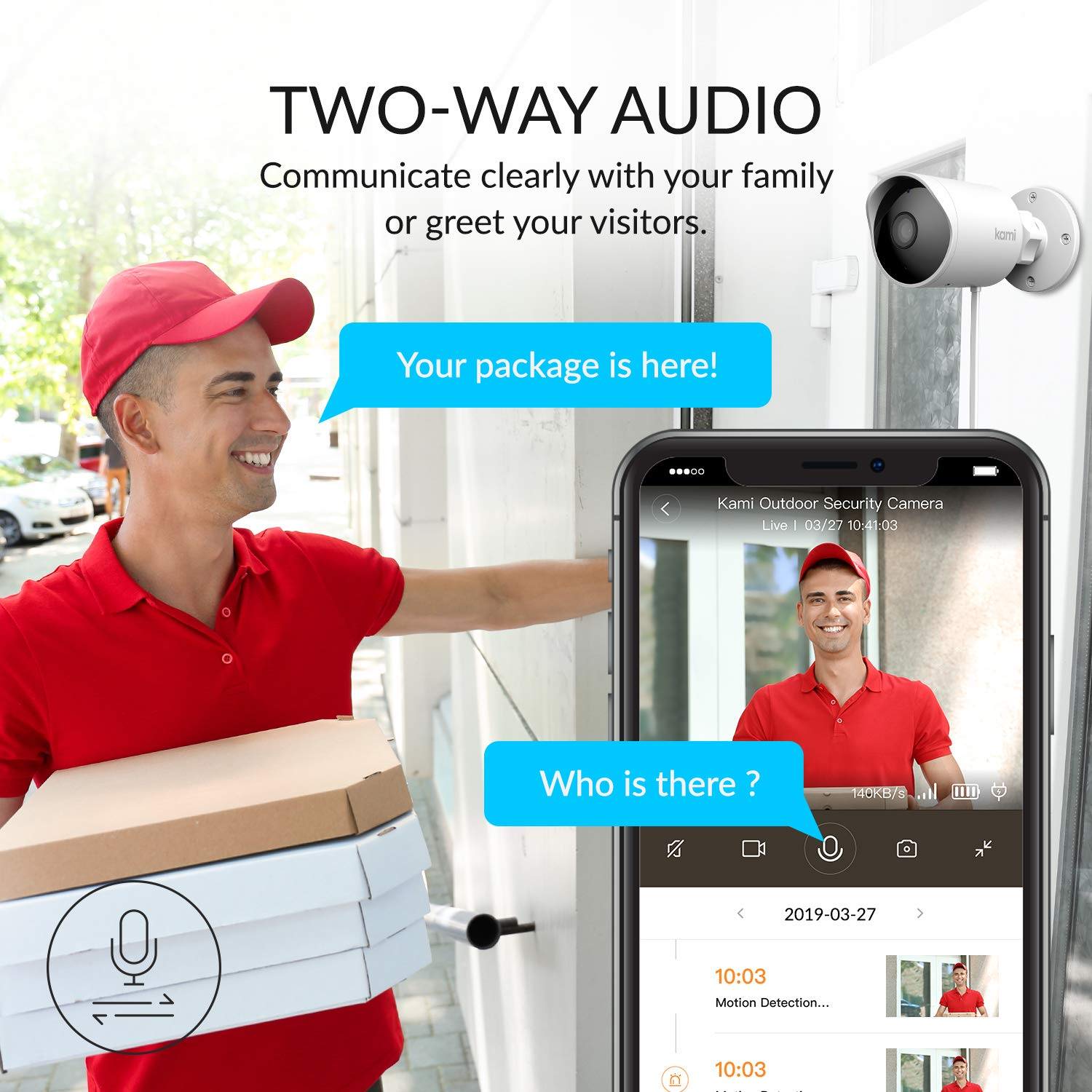 CRYSTAL CLEAR TWO-WAY AUDIO
Say hello to your guest when they are at the door, or send off a warning to an unwanted intruder on your property. Use the built-in microphone and high-powered speaker to smoothly and clearly communicate with family, friends or unwanted guests from your Kami Home App.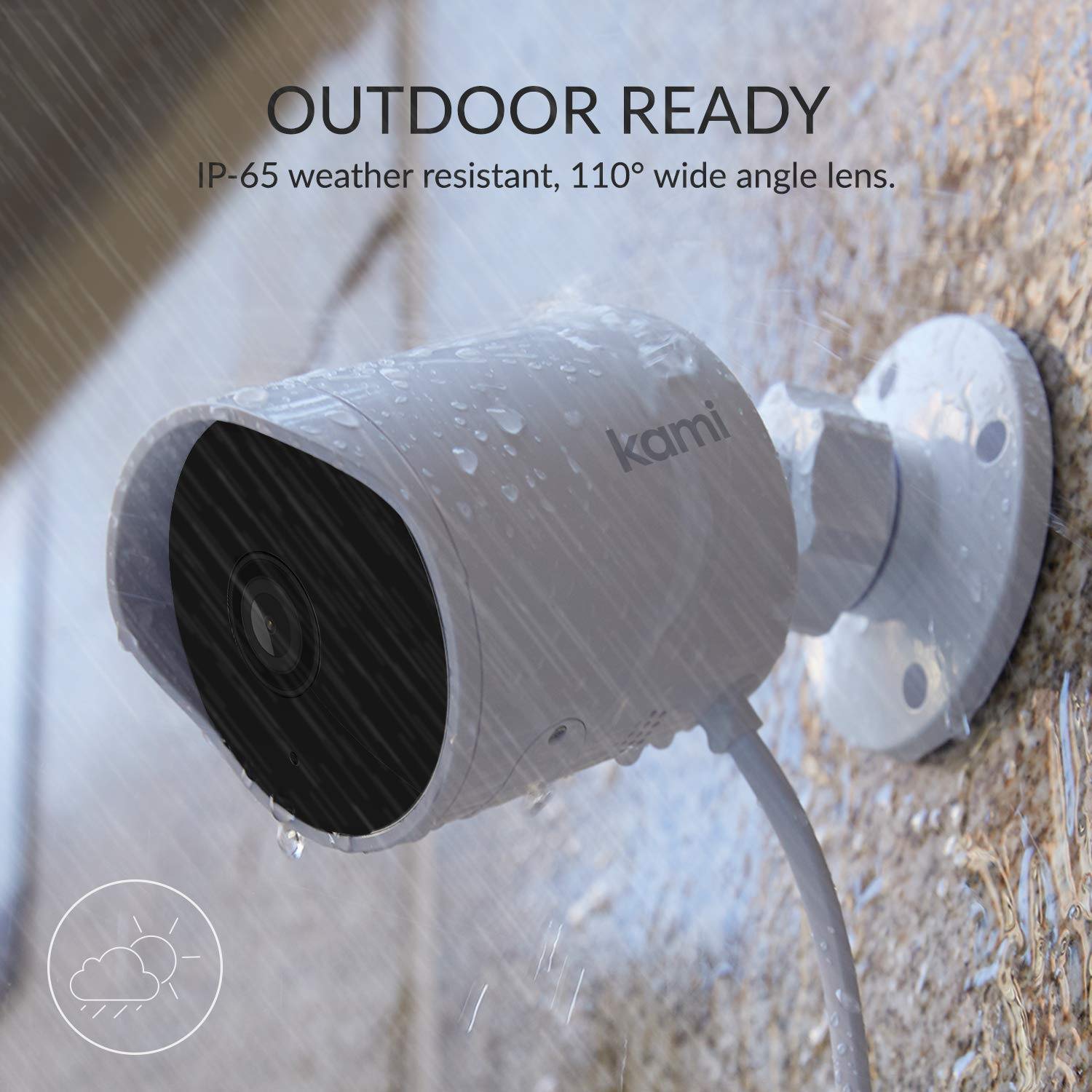 OUTDOOR GUARD FOR A SAFER HOME
The Kami Outdoor Security Camera brings a complete durability against wind, rain, or dust. Providing a safe and reliability outdoor home security monitoring for the ever-changing outdoor environment, day and night. This is your dependable, durable camera to work in extreme environmental conditions.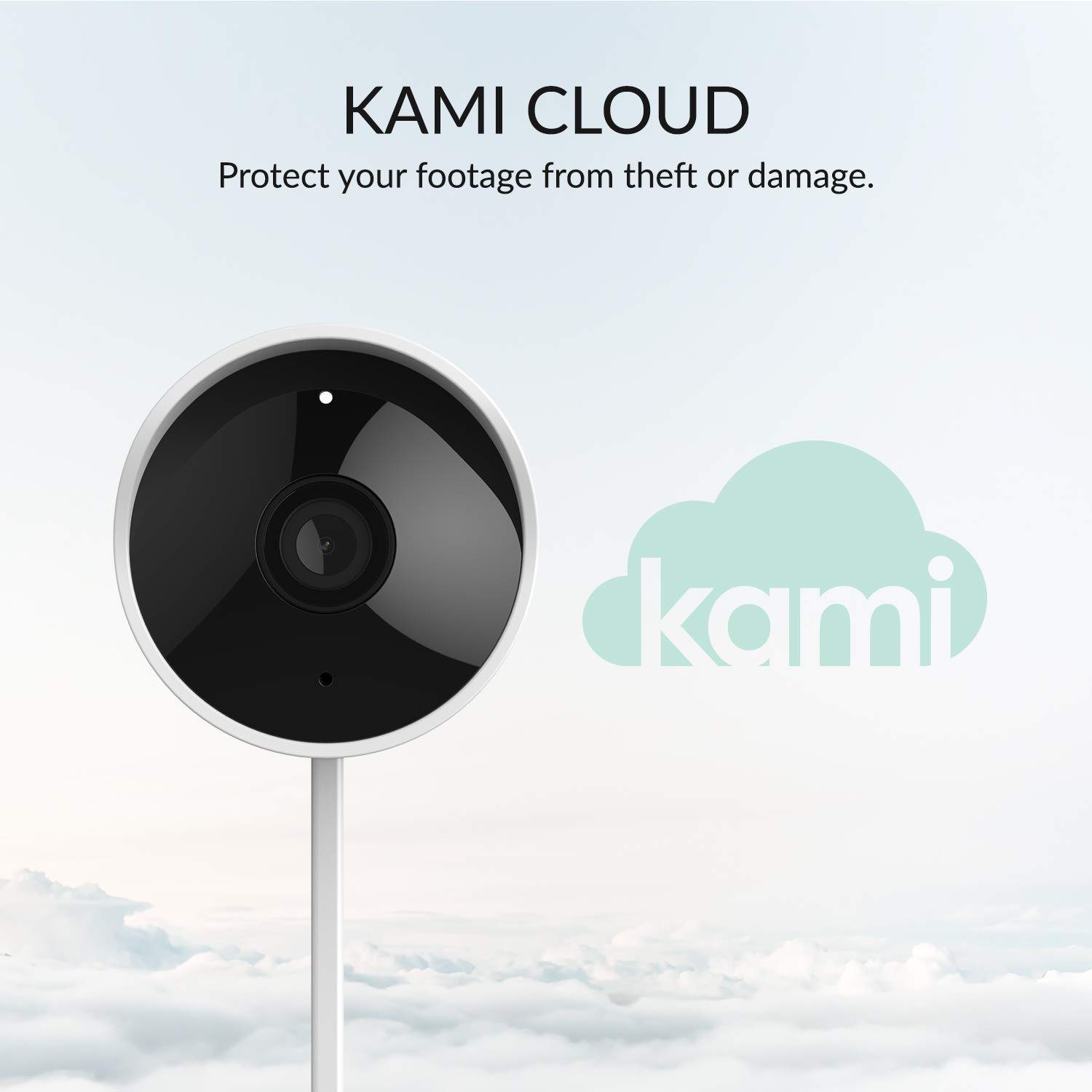 SECURED DATA WITH KAMI CLOUD
Extra secure data. Kami Cloud relies on Microsoft Azure to protect your data with the same level of security and privacy that protects millions of businesses around the world. It surpasses the highest US and European data privacy requirements.
While an outdoor camera is more vulnerable to theft and damage, Kami Cloud stores all your footage on the cloud--keeping it safe and available even if the unfortunate occurs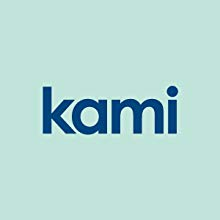 Kami Home App
Stay connected to your home anytime, anywhere with the Kami Home App.
Check in from any smart device, The activity feed records all sensor activity. You can view the entire system or a single sensor from your phone.
Be in control from anywhere.
ACTIVITY ALERTS
Receive real-time notifications whenever motion is detected. Kami's safety hallmark Motion Detection/Tracking Algorithm accurately identifies, tracks, and records movement (and optionally sends 6-second Activity Alerts) to help you keep up with everything.
Written by
an anonymous user
on
Customer Reviews
based on reviews
There are no customer reviews yet.
Thank you for submitting your review. Once it is approved, your review will show up in the list of reviews.
Submitting your review failed. Please try again.
What is the suggested mounting range of Kami Outdoor camera from router ?
We suggest you mount the camera within a 33 foot (10 meters) range from your router.
Can I use third-party power adaptor for this camera?
We strongly recommended to run the camera with the original adapter.
How to install Kami Outdoor camera?
Step 1: Plan the route of the cable from the power outlet to the camera and choose an appropriate spot.
Step 2: Use anchors and screws to mount the base to the wall only if you're not going into solid wood
Step 3: Attach your camera to the mounting base. Adjust the camera angle to a suitable position, and then tightly lock the universal ball mount.
Step 4: Use the clips to fasten the power cord, don't fasten too tightly.
Note: When mounting, pay attention to the following:
- Avoid direct sunlight
- Mind any plants or objects that may obstruct the view
- Ensure the camera is within 33ft from your router.
Does the camera support RTSP or ONVIF?
No, Kami cameras do not support RTSP or ONVIF at this time.
Dimensions & Weight
Colors
Materials
Video Resolution
Operating Temperature

Dimentions: 5.1 x 2.6 x 2.8 inches
Weight: 8.9 ounces
Model number: H31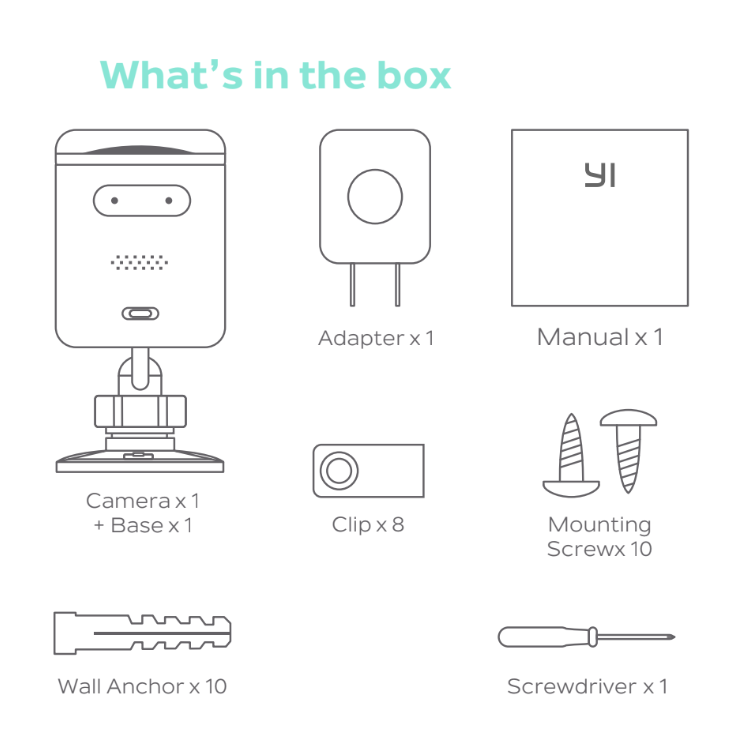 "A good quality HD camera with 2-way communication that doesn't cost an arm and a leg

It was very easy to set up with easy to follow instructions and voice prompts from the camera itself. The white 10 ft power cord gave me enough leeway to mount it high above my drive and garage area. It is very sensitive to motion so I had to dial it down to keep from being alerted all night by the phone app. The sensitivity area is easily adjusted on the app. Cloud storage at different levels is available at reasonable prices or you can just insert a microSD card in the slot on the bottom of the camera."
FireBurt
1 Nov 2019
"Quality output and easy to install
I installed this camera outside my house, right above the front porch. I didn't want to use Ring as anyone coming in the front door could access it. This is the best alternative to a doorbell camera. The two way audio quality is very good and so is the motion dectection."
Gollamudi, Krishna
11 October, 2019
"Value for the money!
Kami Home is an all-encompassing home security system that won't break the bank. It includes door/window sensors, indoor/outdoor cameras and even motion sensors to help keep your home safe and secure. Setup is also incredibly easy and can be done entirely via the app."
PhoneDog
29 May 2019