Free Shipping anywhere in USA!

30-Day Money-Back Guarantee
Designed for Convenience
Kami Wire-Free Outdoor Camera is a 100% wire-free HD camera with advanced motion
detection.
Featuring a truly wireless design, the Kami Wire-Free Outdoor Camera doesn't require any external base stations or hubs. Just use the included rechargeable batteries and your camera is ready to use.
Designed to be the ultimate wireless security camera, with the versatility to be used in
multiple scenarios - place it anywhere in your home or bring it with you everywhere you go.

VERSATILE AND PORTABLE
Easy to install with flexible viewing angles.
IP65 certified "dust tight" and weatherproof protection combined with a wide operating temperature range (between -10º to 50°C/14°F to 122°F) providing 24/7 operation, regardless of the environment. The rechargeable long-lasting batteries and dual Kami Cloud + micro-SD card storage option offers unparalleled convenience.
The best part – no hub needed!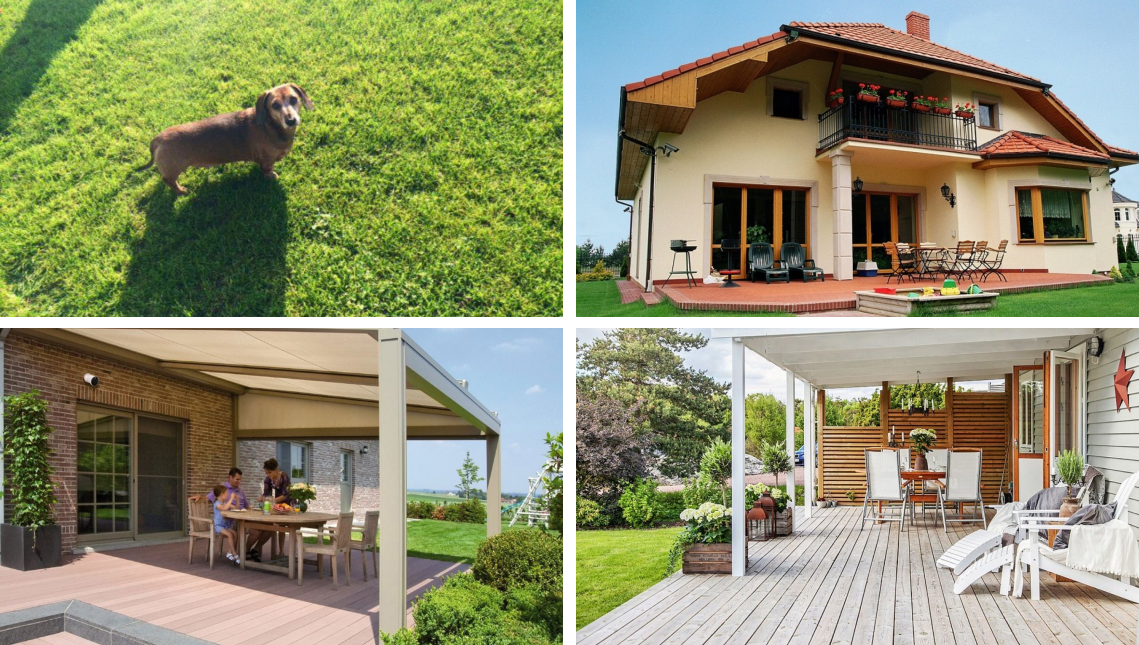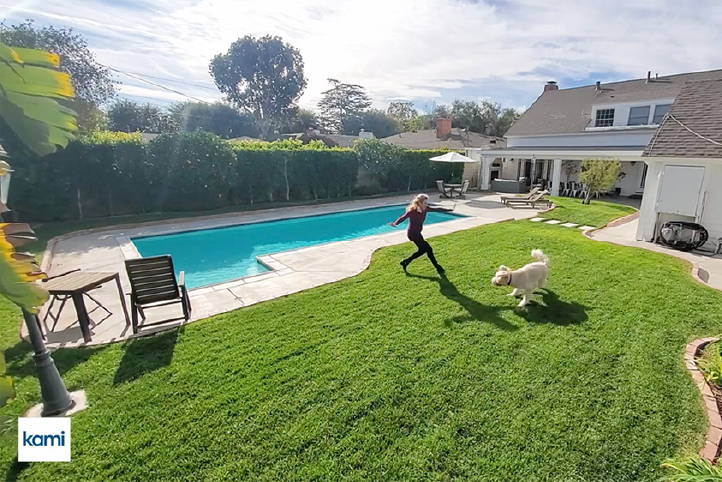 ADVANCED MOTION DETECTION
With excellent optics
Equipped with a reliable PIR motion sensor reduces "false positives" caused by items such as moving trees, flags, cars at distance. When an abnormal sound or motion is detected, you'll receive an alert directly on your phone.

Featuring a 140° wide-angle lens, 1080p HD images, and enhanced night vision capabilities, the Kami Wire-Free Outdoor Camera allows you to see more, more clearly.
WEATHER RESISTANT
Security All Year Round: With a wide operating temperature range (between 14°F to 122°F), the Kami Wire-Free Outdoor Camera withstands the wind and rain to provide reliable safety for your home, no matter the seasons or conditions outside.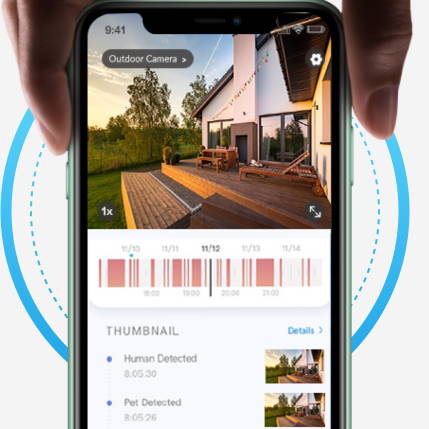 SECURED DATA WITH KAMI CLOUD
Extra secure data. Kami Cloud relies on Microsoft Azure to protect your data with the same level of security and privacy that protects millions of businesses around the world. It surpasses the highest US and European data privacy requirements.
While an outdoor camera is more vulnerable to theft and damage, Kami Cloud stores all your footage on the cloud--keeping it safe and available even if the unfortunate occurs
RECHARGE AND REUSE
The Kami Wire-Free Outdoor Security Camera comes with four high-powered rechargeable batteries that can be quickly powered using the included Kami battery charger. Keep downtime to a minimum and monitor your home for up to 6 months per complete charge.
Download the
Kami Home App
Stay connected to your home,
no matter where you are.


Written by
an anonymous user
on
Customer Reviews
based on reviews
There are no customer reviews yet.
Thank you for submitting your review. Once it is approved, your review will show up in the list of reviews.
Submitting your review failed. Please try again.
Does this camera have loop recording mode?
Yes, it has loop recording. Presently it records in 3 minute loops only but there may be updates in the future that will allow for several choices.
What SD cards are supported?
We suggest you use 8-64GB high-endurance class 10 micro-SD cards.
Does this camera support Wi-Fi direct or do I need a hub?
Kami Wire-Free Outdoor camera supports mobile and router Wi-Fi direct connections for viewing, so no hub is required.
Can this camera be used without a memory card?
Yes. It will not record, but it will send the video feed to a connected phone. If the card is removed the camera shuts off. You have to manually power on the camera to connect.
How long will the battery last and are the batteries rechargeable?
Kami Wire-Free Outdoor camera uses 4 rechargeable 2600 mAH batteries, which under normal usage and weather conditions can last half a year between charges.
Can this be used when traveling?
Yes, the wire-free design and Wi-Fi direct built into this camera makes it ideal to move around anywhere in the house or bring with you if you need to use it on the go.

Dimensions & Weight
Lens
Sensors
Video Resolution
Operating Temperature

Dimentions: 3.4 x 2.4 x 2.5 inches
Weight: 7.05 ounces
Model number: W102

F1.8 aperture
165° wide-angle
glass lens
Power Source
Storage
Materials
Wi-Fi Support
Operating System

4x18650 lithium batteries

8 - 64GB Class10
micro-sd card

Single band 2.4Ghz and
802.11 b/g/n
Camera x 1

Camera base x1

Wall Mount Base x1

Power Adapter x1

18650 Batteries x4

Battery Charger x1

Extra Weather Resistant Ring x1

Installation Hardware x1

USB Power Cable x1

Camera Stand x1

Manual x1

Reset Pin x1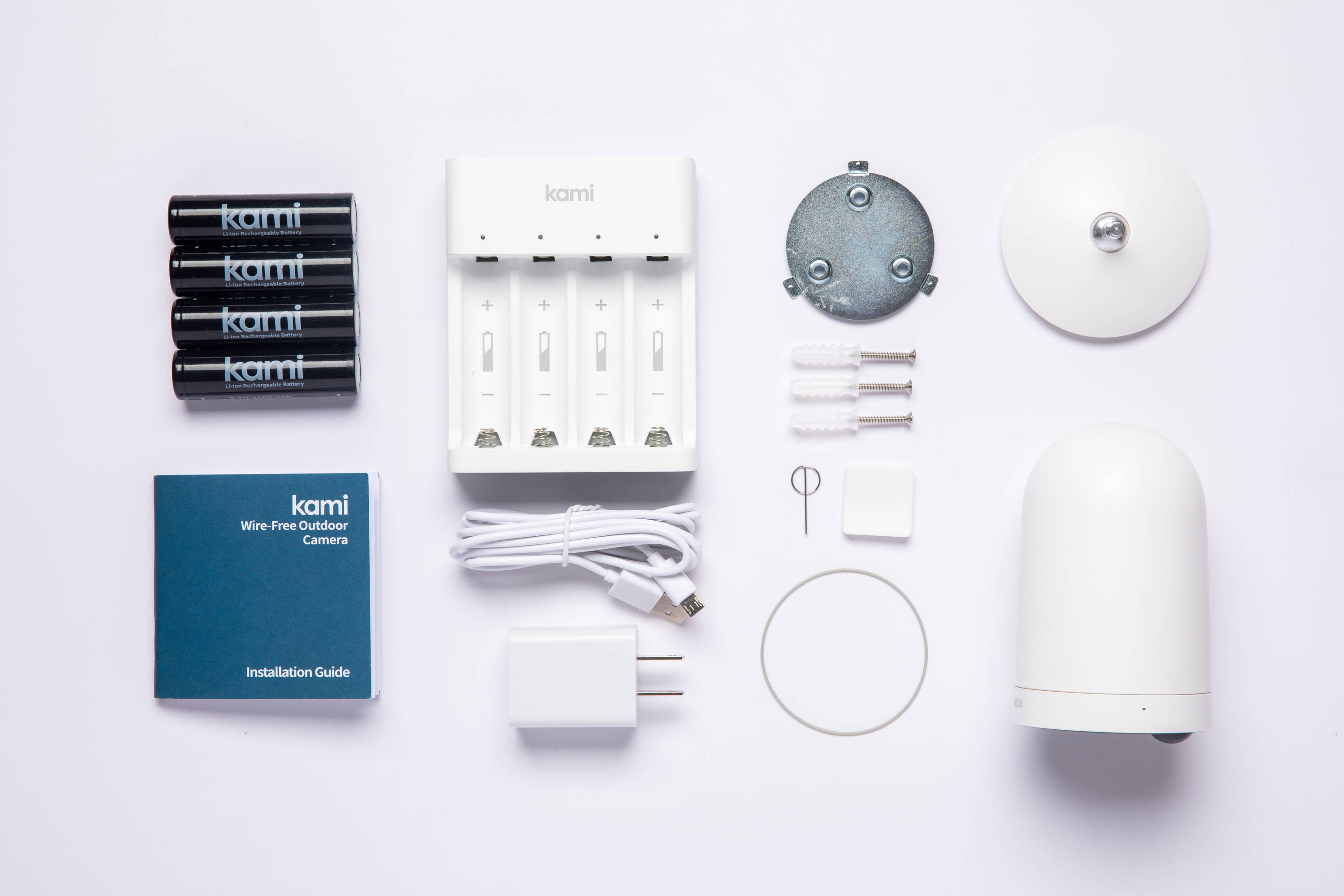 "A good quality HD camera with 2-way communication that doesn't cost an arm and a leg

It was very easy to set up with easy to follow instructions and voice prompts from the camera itself. The white 10 ft power cord gave me enough leeway to mount it high above my drive and garage area. It is very sensitive to motion so I had to dial it down to keep from being alerted all night by the phone app. The sensitivity area is easily adjusted on the app. Cloud storage at different levels is available at reasonable prices or you can just insert a microSD card in the slot on the bottom of the camera."
FireBurt
1 Nov 2019
"Quality output and easy to install
I installed this camera outside my house, right above the front porch. I didn't want to use Ring as anyone coming in the front door could access it. This is the best alternative to a doorbell camera. The two way audio quality is very good and so is the motion dectection."
Gollamudi, Krishna
11 October, 2019
"Value for the money!
Kami Home is an all-encompassing home security system that won't break the bank. It includes door/window sensors, indoor/outdoor cameras and even motion sensors to help keep your home safe and secure. Setup is also incredibly easy and can be done entirely via the app."
PhoneDog
29 May 2019