Free Shipping anywhere in USA

30-Day Money-Back Guarantee
keeping your home secure
Kami understands that you can't always be around to see what your loved ones are up to, which is why we created the versatile Kami Indoor Camera. Kami lets you check in anytime, to see every corner. Stay connected around-the-clock with the accompanying Kami Home App or YI Home App. It lets you control your camera, change settings, and access existing footage on the totally secure Kami Cloud (built on Microsoft Azure).
Cry Another Day
Place it near your baby's crib and the Kami Indoor Camera acts as a baby monitor, sending a notification to your smartphone at the first cry.
It also alerts you when any other abnormal sounds are detected nearby, such as your smoke detector beeping or a window breaking.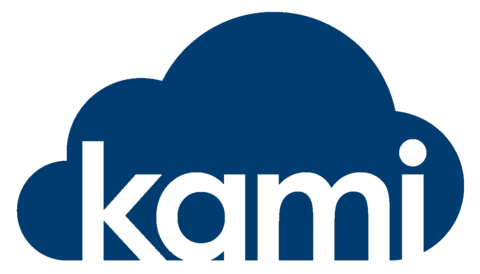 Get Peace of Mind
We know just how important your security is and that's why we are excited to bring you Kami Cloud (built on Microsoft Azure).
Your footage is safe, data is encrypted and best of all everything is easily accessible in your Kami Home app or YI Home App.
Stay on Track
Thanks to motion detection and tracking, the Kami Indoor Camera can detect people or pets and keep them in the field of view as they continue to move.
Receive an alert to your smartphone with a short video clip of the detected motion and stay up-to-date with who's coming and going.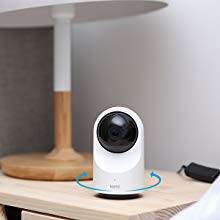 It's All in Plain Sight
With 340° rotation and 95° tilt capabilities, you're able to see every corner of the room within seconds. If you want some privacy, simply hide the lens away in 'Privacy Mode'.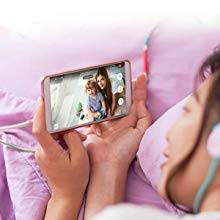 Hear, Say
Want to say 'Hi'? With Kami's two-way audio, you can communicate with your family or remind potential intruders that you still have eyes on your home.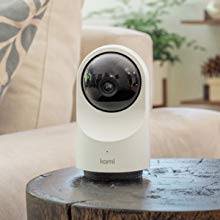 A Touch of Class
Good tech deserves a great design.
Whether on a bookshelf or hanging from the ceiling, the Kami Indoor Camera is designed to look great.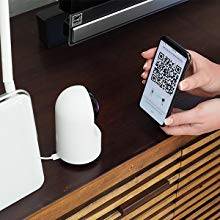 Just. Like. That
Setting up your Kami Indoor Camera is easy!
Simply download the Kami Home app or YI Home App, activate your account and pair your camera to get started.
Written by
an anonymous user
on
Customer Reviews
based on reviews
There are no customer reviews yet.
Thank you for submitting your review. Once it is approved, your review will show up in the list of reviews.
Submitting your review failed. Please try again.
FREQUENTLY ASKED QUESTIONS
Can this be viewed on more than one phone?
Yes, you can view the live feed of all Kami cameras from the Android or iOS app.
What does indicator light color mean?
Blinking Green Light- Internet (wired/wireless) connection problem
Solid Blue Light- The Camera is working properly. The user is not in the app or is in the app but not in live view mode in the app.
Blinking Red Light- Shows object in view (with or without human/motion detection) when in the app.
No Light- Check to see if micro USB cable and/or USB electrical power adapter is plugged into a power source.
Why does the cameras video display upside down?
You can change the orientation of the image by turning Image rotation on/off by going to settings and camera settings on the Kami Home app.
Is there an SD card slot?
Our Kami Indoor camera does not have an SD Card slot. However the camera comes with a 1 year free cloud service.

Dimensions & Weight
Colors
Materials
Video Resolution
Operating Temperature

Dimentions: 3 x 3 x 5 inches
Weight: 9.4 ounces
Model number: Y32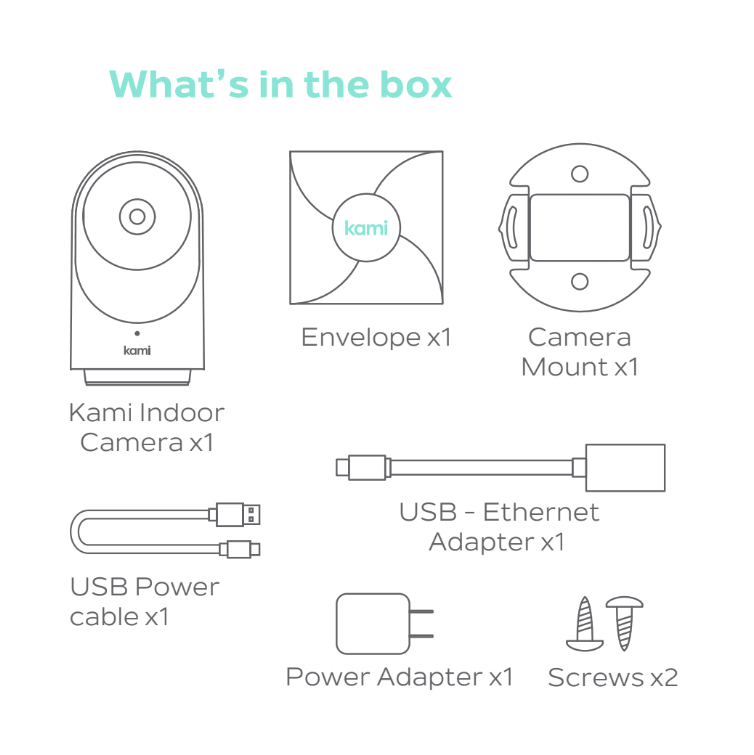 "A good quality HD camera with 2-way communication that doesn't cost an arm and a leg

It was very easy to set up with easy to follow instructions and voice prompts from the camera itself. The white 10 ft power cord gave me enough leeway to mount it high above my drive and garage area. It is very sensitive to motion so I had to dial it down to keep from being alerted all night by the phone app. The sensitivity area is easily adjusted on the app. Cloud storage at different levels is available at reasonable prices or you can just insert a microSD card in the slot on the bottom of the camera."
FireBurt
1 Nov 2019
"Quality output and easy to install
I installed this camera outside my house, right above the front porch. I didn't want to use Ring as anyone coming in the front door could access it. This is the best alternative to a doorbell camera. The two way audio quality is very good and so is the motion dectection."
Gollamudi, Krishna
11 October, 2019
"Value for the money!
Kami Home is an all-encompassing home security system that won't break the bank. It includes door/window sensors, indoor/outdoor cameras and even motion sensors to help keep your home safe and secure. Setup is also incredibly easy and can be done entirely via the app."
PhoneDog
29 May 2019